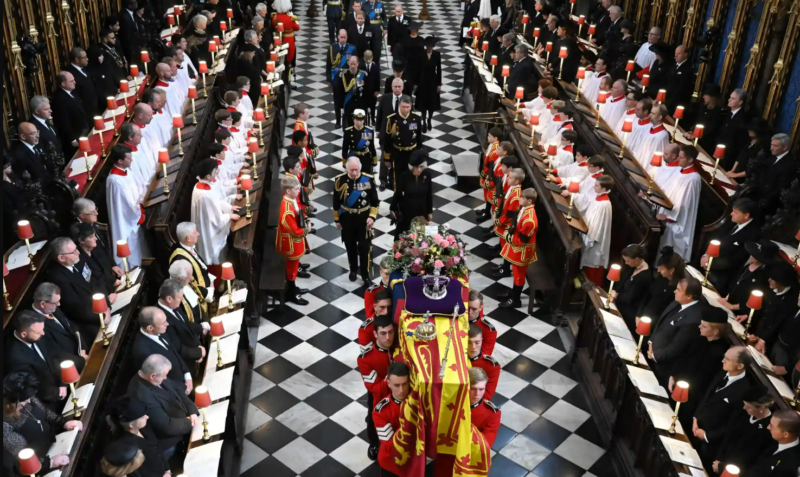 On the day after the funeral I write this feeling a certain kind of disorientation. Bank Holidays often bring that disruption to the week that leaves one wondering what day it is but this 'day after', might we experience a deeper shift that brings some questions to attend to?
Few are left unmoved by the day, Monday 19th September, which was watched by over four billion people: the colour and music and solemnity of the faultless ceremonial. Without a doubt, this day of pageantry and splendour in Westminster and Windsor was a moment of history. A flawless day of valediction. The sound of the slow beating drums or that lone piper playing a lament as the coffin was lowered into the Vault. The carefully chosen words of BBC Presenter Huw Edwards. The faces of the Royal family as the late Queen was carried to her rest. The palpable outpouring of love. Ceremony, liturgy and that moment when the Crown, orb and sceptre — symbols of monarchy were laid on the altar – all this and more.
We must get back to our lives, ordinary and mundane as they inevitably are. Life goes on but it does feel different. I was struck by this Aboriginal Proverb quoted by HM The Queen in an address to the Commonwealth in 2011:
'We are all visitors to this time, this place. We are just passing through. Our purpose here is to observe, to learn, to grow, to love…and then we return home.'
I wonder whether you, whatever your religious beliefs, haven't felt some spiritual pulse beating and asking what this one life means? Who am I? What might I need to do to flourish? How do I sort out the messy bits of my life? Who do I need to say sorry to? We get one life – seize the day and its threads as you weave its colours, patterns and purposes.
I found myself crying at some unexpected moments. Why? I am not sure. I was taken back to my mother's funeral almost four years ago. All death reminds us of our own struggles with grief. Grief never truly leaves, does it? It just sits patiently somewhere, waiting for you to find each other again. Be kind to yourself and others – we never know what their struggles are.
Finally – as the 6am news returns to cost of living, Ukraine and politics — our place in the world is complex. We have some big questions to ask about what we are as a nation, a huge conversation to have about who we want to be, a deep consideration of what needs to change.
But whatever your 'take', let's be quick to listen, and slow to speak. Let's be kinder and seek to nurture some wisdom that we can live by.
My prayers and best wishes for you and your days of life and living.
This post is adapted from a piece written for the 22 September 2022 Footnotes column of the Salisbury Journal.A